Non-profit Consultant Offering Help in Project Design, Funding and Management
I have been lucky enough to have been a consultant to over 100 development and non-profit organizations on projects as diverse as report writing, impact analysis, donor development, troubleshooting management and project challenges—and how to design, fund and launch a project.
Writing. I can help you write a program and funding plan, a final report, training materials, materials for the promotion of your non-profit, content for your email newsletter, web site and blog—and I will edit your rough drafts into finished copy.
Non-profit and NGO Consultant: Whether I'm working with you one-on-one—or at a distance through email and telephone calls—I can help you:
develop a brand-new project from scratch in response to a donor request for a proposal
help a new staff member inherit and launch a project designed by a former staff member
get a current project with a challenge back on track
improve efficiency in organization and project management
develop long-term programming which may include a suite of projects combined into a mission driven program
I work with both:
Traditional Non-profits (typically in the United States and Canada) who are working on a program such as animal welfare, youth empowerment, education, community development, hunger, urban agriculture, immigration, the environment—or with a food bank or homeless shelter.
International Development Organizations who are working with communities in a developing nation on projects as diverse as food security, water, health, income generation, adaptation to climate change, gender, education—or with a family farm program or connecting farmers to a market.
Face-to-Face versus Distance Consultant: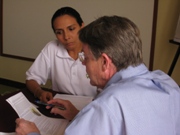 Face-to-Face. I've had the good fortune to have worked in the field with NGO and non-profit organizations in the United States, Mexico, Central America, Africa and Southeast Asia. I've also worked with donors in North America, Central America, Europe, and Asia on proposal development and reporting.

Distance Consulting. With the advent of the Internet, email and Skype video calls, I can also consult, train and write content from a distance.
Mentor:
My Mentoring Program is a combination of training, advising, and coaching. I will provide an experienced set of eyes, concrete feedback on your work, help you prioritize and focus what's going to work best, show you how to research evidence-based best practices, and to experiment with and test your approaches in order to see what works best for you. I will also show you tricks for working smarter and faster.
Coach:
My Coaching Program: I provide a three-month coaching program where we take what you are learning in your training with me—and and work together to turn it into a real project that will work. We start off clarifying community need—and then we develop a project design, funding documents and research donor possibilities.
By the end of the three month coaching program you will have developed a real project based upon real need determined through a participatory assessment—and you will have contacted a donor for feedback and for relationship building.
I can help you with:
promotional materials, report writing, and providing editing services
web site, blog and email newsletter content
SEO: keyword optimization of the content that I write
Program Design and Development
evaluating an existing project design to help increase impact and sustainability
developing a brand-new project from scratch
researching best practice activities a project
troubleshooting a project with a challenge
Managing
improving efficiency in project management
evaluating project impact
building capacity in your organization through a training workshop
helping you become a Field Partner of the Center for Sustainable Development: Contact me.
Funding
developing new donor relationships
evaluating a project design to help increase its funding opportunity
Please feel free to
contact me
with ideas about a potential consultancy—and we can arrange a Skype date in order to discuss it in greater detail.
Thank you, and I look forward to hearing from you.
Tim Magee