GUATEMALA LIVE: TRAIN & LEARN THROUGH SERVICE LEARNING & WORKSHOP PROGRAMS
Combine Culture, the Environment, Development, Service and Experiential Learning
I've been working with visiting groups of people in Guatemala since 2003. I lead visitors through four types of field experiences based upon their interests and expectations.
1. Guatemala Expedition.
Who: High school students, university students, and church groups have all enjoyed my Guatemala Expeditions.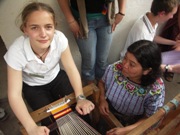 I would like to invite you to join me in an international service and learning experience unlike any other. Our 9-day, total immersion, 'Guatemala Expedition,' places you on-the-ground where on successive days you will visit indigenous Maya villages and colonial cities and work one-on-one with a farmer, school teacher, student, scientist, university professor, development worker and artist craftsman. You will learn about the diversity of culture in Guatemala—and the complex interrelationships this creates.
2. Guatemala with a Purpose.
Who: For students of life, adults, and retirees hoping to connect with and develop a relationship with a community of people in a developing nation.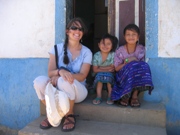 Guatemala with a Purpose blends the contact with local people and the natural beauty found in the Guatemala Expedition program just above with workshop sessions and guest lecturers found in the Professional Development Workshop just below.
Learn how a knowledge of improved project design can help you achieve greater impact with your donor dollars. Guatemala with a Purpose also offers valuable insights into the world of development for people seeking a career change into development.
If you're enjoying the flexibility of retirement, you can turn a vacation into a chance to donate your time and skills to a worthy cause. Plus, you can visit Guatemala and meet local families in the process. A service trip offers a lot more than sightseeing; you're more likely to learn about the local culture and get to know the people than on an ordinary vacation.
3. Train in Guatemala: Professional International Development Workshop.
Who: Donor and NGO staff, university students of development—and for people seeking a career change into development.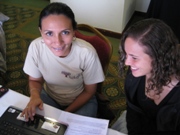 9 Days. You are invited to participate in a workshop in Guatemala where you will combine theory with practice by working in the field to design and launch a development project. You will develop a range of skill sets, including how to facilitate participatory needs assessments and how to design and launch impact driven projects. Working side-by-side with villagers in the true context of a rural development project, you will experience firsthand the real-life needs of community members and the challenge faced by an implementing NGO.
4. Professional Blended Learning.
Who: Donor and NGO staff—university students of development.
Design & Fund an International Development Project. In this blended learning, 8 week training program you will participate in: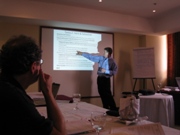 Participatory Needs Assessments. 2 Weeks. Conduct participatory needs assessments with a community in your own country in preparation for the Guatemala workshop—guided through distance learning.
A Face-to-Face Workshop. Full Project Design and Development. 5 Days. Upon arriving in Guatemala, working with your workshop leader, you will use your needs assessment to begin the development of a complete, fundable, launchable project.
3. Project Launch: Community Capacity Building: 5 Weeks. Return home to your country and launch your project with the continued guidance of your workshop leader.
Please free to contact me if you are interested in learning more about dates and how my Field Courses can increase your program impact.