Come to Guatemala on a Service Trip and see History, Village Life and Hope
I would like to invite you to join me in an international service and learning experience unlike any other. Our 9-day, total immersion, "Guatemala with a Purpose," places you on-the-ground where on successive days you will visit indigenous Maya villages and colonial cities and work one-on-one with a farmer, school teacher, student, scientist, university professor, development worker and artist craftsman.
Guatemala with a Purpose blends the contact with local people and the natural beauty found in the Guatemala Expedition Program with workshop sessions and guest lecturers found in the Professional Development Workshop. You will meet the local people and get into the countryside for witnessing Guatemala's stunning beauty. You will be presented lectures by visiting experts and workshop sessions that will allow you to gain a full understanding and appreciation of what you are seeing each day.
Who: For students of life, adults, and retirees hoping to connect with and develop a relationship with a community of people in a developing nation.
This is an upgraded package to the student experience found in the Guatemala Expedition: nicer hotels, meals and transportation. We'll spoil you!
International Development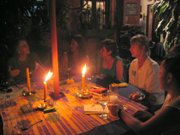 You will learn about the diversity of culture found in Guatemala—and the complex interrelationships this creates. Working in different villages, you will confront the realities of the problems and solutions encountered in international development. You will visit a disaster relief camp and get a sense of the loss and the challenge. We will explore how man's impact on the ecology of the region can contribute to a disaster.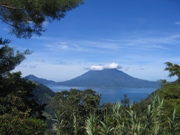 Gain a perspective on the myriad complex issues found in a developing nation. See how positive change can be made by maintaining a long term community relationship
—
and by introducing sustainable, best practice, practical solutions. You will make friends in a beautiful village  and discover the personal relevance of touching one small country in an increasingly interconnected world.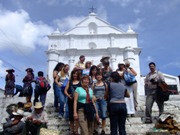 "The first thing that comes to mind when someone asks me about Guatemala is Adventure. I will never forget the adventures I had and the many friends that I made along the way. From the villages of the Pacific coast and the highlands, the Petén and the Capital, everyone went above and beyond to lend a helping hand or make me feel at home. The amazing landscape and rich culture were unlike anything I had ever seen before."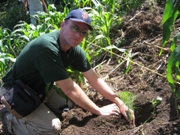 Bring your skills and expertise along for sharing with our local host communities. If you're enjoying the flexibility of retirement, you can turn a vacation into a chance to donate your time and skills to a worthy cause. Plus, you can visit Guatemala and meet local families in the process. A service trip offers a lot more than sightseeing; you're more likely to learn about the local culture and get to know the people than on an ordinary vacation. Plus, learn how a knowledge of sustainable project design can help you achieve greater impact with your donor dollars.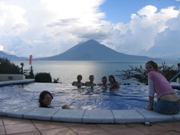 Guatemala offers an in-depth view of the wealth, poverty, biodiversity and culture found in all of Latin America—in a microcosm. Each day of our 9-day journey will bring you a different field experience working hands-on in:
a forgotten village
a cloud forest and mile-high lake
the studio of an artist craftsman
a tropical plantation and a village farm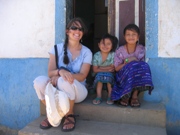 You will learn through immersion the complexities in:
Maya, colonial and contemporary culture
sociology and village life
ecology and environmental sustainability
humanitarian development solutions
The Learning Experience: Workshops and Guest Lecturers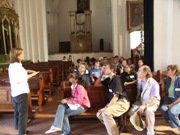 We will intersperse your field experiences with workshops on development and contextual lectures by experts in their fields.
the history, archeology and architecture of the city of Antigua
the ecological diversity of Guatemala
the complexities of village life for the Maya
designing a solution oriented development project in a village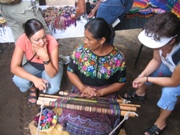 Guatemala is a fascinating kaleidoscope of overwhelming beauty and cultural contrasts. Timeless, colorfully dressed, traditional Mayans navigate lakes and villages shadowed by active volcanoes – while the wealthy race sleek, black Jaguars along cobblestone streets in 16th century Spanish colonial towns.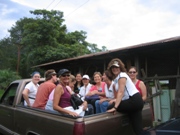 This training experience is for self contained groups of 12 to 20 people. If you are an individual—we want to work with you too! Please look into our Distance Learning Program.
Guatemala with a Purpose is for groups wanting to see different facets of the beauties and complexities of a developing nation and its people. Who: For students of life, adults, retirees hoping to connect with and develop a relationship with a community of people in a developing nation. Guatemala with a Purpose is also for people seeking a career change into development.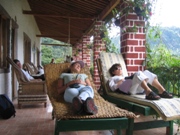 Participants are responsible for travel costs to and from Guatemala. The cost of this experience includes 9 nights' accommodation, 8 days' ground transportation, meals and training materials. Costs will range from $1,800 to $2,000 per person depending on the size of the group and specific requirements you may have.
Please write to me directly for full details. Describe the size of your group and your schedule and I will respond with a quotation.
Please feel free to contact me if you are interested in learning more about dates and how my Field Programs can increase your knowledge of a complex world.
Participant quotes from evaluation forms:
"Discovering pitaya – all events and activities were thoughtfully planned, everything was well coordinated to expose us to the richness and complexity of Guatemalan history and culture, past and present, the school visits were powerful, micro business, introduction to concepts of development, it was all wonderful from an education and tourist viewpoint."
"This was a very organized trip – the guides were very knowledgeable and the transportation was excellent and always on time – I had the time of my life on this trip! – Kami was an awesome guide – she was very organized, she planned many neat events which provide me with a lifetime of knowledge and memories, she is extremely knowledgeable and enjoyable to have as a guide, thank you!"
"Being able to see the children in their schools and the marimba concert/dance."
"Visiting the schools and observing and talking with the students and teachers and learning about their culture."
"Working with community – women's cooperative, Tierra Linda school, school in Panabaj."
"Variety – there was a nice 'sampling' of the different aspects of the culture that I wanted to learn about."
"The people were wonderful."
"All cultural activities, trip on boat, hike on the volcano."
"Cognitive days at schools with a natural tour in between – Los Tarrales is magical."
"The Guatemalan people."
"The variety of experiences – hands on experiences."
"Saturday morning intercambio with teachers at San Juan La Laguna."
"I liked the diversity of events – not all just at schools – my favorite place was Los Tarrales –  the volcano."
"Women's cooperative, planting trees, school visits, shopping."
"Touring the villages, schools, Lake Atitlan – THE ENTIRE TOUR!"
"This is an amazing experience—I I LOVED IT ALL. I would have preferred less 'luxury' – to tell you the truth, I wanted to feel more what average Guatemalans feel every day."
"Thank you for such an amazing experience."
"I will be much more sensitive to immigrants in my community and the students I teach."
"I would love to come back and teach or whatever – my children would benefit from visiting this country."
"I have learned so much and you can bet money I will be back SOON – thank you with all my heard – Kami, you are the best!"
"Keep up the good work."
"You worked very hard to make sure we had a wonderful time in Guatemala – thanks to all who made it possible."
"Thank you for the very special accommodations."
"Kami and Sheila were marvelous hosts for a marvelous country – the itinerary allowed participants to experience a range of insights and understanding of Guatemalan life, economy and cultural context."
"I want to return and help bring better teaching skills and learn new skills."
"I cannot thank those of you who made this opportunity possible (finances, logistics, etc.) enough – I am a changed person!!"
"I am grateful, so appreciative that I have had this experience and the amazing guides we have had – the land, the people, the culture, EVERYTHING has been beyond my dreams."
"I just want to thank ALL involved in the study abroad – this visit has changed me forever."