The business skill to train, coach, consult & design solutions to non-profit challenges.
I am a non-profit consultant, trainer and author. I help motivated but overwhelmed non-profit staff regain a sense of control and focus on what matters most: designing, funding and managing successful programs that will solve challenges faced by the communities they serve.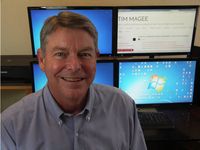 After a successful 25 year business career I decided to begin giving back by using my management skill sets to coach non-profit organizations in improving organization management and increasing program impact. During this time I co-founded a nonprofit—
Seattle Tilth
, an urban agricultural center—that is still going strong 30 years on.
I've spent the last 12 years conducting research, training, and writing about "What works in the Non Profit world?"
Everything in a business needs to work—or you have unhappy customers. You develop a sense of radar that nips a problem in the bud. Consequently, when I began working on non-profit and development projects I was surprised to see recurring organizational and project management challenges. I began to lead a team building training workshop on how to get organized.
My work created intense curiosity on my part in better understanding "What works in development?" This led to the formation of the
Center for Sustainable Development
where I am its Executive Director.
I have maintained my work as a non-profit consultant, mentor and coach; there is a tremendous amount of opportunity for cross-fertilization between the consulting and the Center. I actually get my 'hands dirty' when I'm consulting—and by doing so I have been able to add value to the work that we do at the Center. A typical project may involve consulting with an organization on things like project design and project management challenges, providing a training workshop for their staff, or providing a writing service. Over the past dozen years I have had the good fortune to work face-to-face with well over 100 different non-profit and donor organizations.
Non-profit Training:
Training Workshops.
I have led training workshops on topics that have included, grant writing, non-profit management, project design and development, and project management. Specialty training has included housing for the homeless, sustainable agriculture, food security, the environment, and adaptation to global warming and climate change. Participants receive a Diploma issued by the Center for Sustainable Development.
Distance Learning.
I have conducted research for and written two dozen development courses and training programs. As a teacher with our distance learning program at the Center, over the past four years, I've had the honor of working with field partners from
153 countries and 500 organizations
who have developed projects that impact over 400,000 people. Their projects have addressed
270 different kinds of project challenges
. Participants receive course certificates issued by the Center for Sustainable Development—which also provides specialized diploma programs.
Non-profit Consultant:
I have worked with non-profits since 1978—when I co-founded the
Seattle Tilth
Urban Agricultural Center which is still growing. I have been a consultant to over 100 development and non-profit organizations on projects as diverse as report writing, impact analysis, donor development, troubleshooting management and project challenges—and how to design, fund and launch a project.
Mentor:
My
mentoring program
is a combination of training, advising, and coaching. I will provide an experienced set of eyes, concrete feedback on your work, help you prioritize and focus what's going to work best, show you how to research evidence-based best practices, and to experiment with and test your approaches in order to see what works best for you. I will also show you tricks for working smarter and faster. Participants receive a CSDi diploma.
Coach:
My
Coaching Program:
I provide a three-month coaching program where we take what you are learning in your training with me—and and work together to turn it into a real project that will work. We start off clarifying community need—and then we develop a project design, funding documents and research donor possibilities. Participants receive a CSDi certificate.
Writing:
I am the author of two books, I write program and funding plans, grant proposals, reports, training materials, materials for the promotion of your non-profit, content for email newsletters and blogs— and I will edit your rough drafts into finished copy. I've maintained a development blog for five years who's website receives over 20,000 unique visitors per month: 22,000 people subscribe to my email newsletter.
Two years ago I was asked by Routledge, to write a Field Guide to Community Based Adaptation to climate change. Each chapter of the book is organized as a practical field assignment that readers can use to begin developing a project of their own.
Marketing:
Marketing can mean different things to different people the nonprofit world. I lead
nonprofit certificate programs
on developing communications plans, basic website development, newsletters and list building, program sustainability, and Social enterprise for nonprofits: earned income ventures.
Contact:
Thank you for your interest and support. Please
contact me
directly with your writing, training, and consulting needs.
Tim Magee
Connect with me: